My knees used to hurt every time I walked up and down stairs and I had sciatica pain weekly. Now I'm virtually pain-free.
-Sharon Tilton, Teacher
Salem, WI
I haven't used my inhaler in two years. Every aspect of my health seems to have improved since training with Matt.
- Dave Schwaiger, Warehouse Supervisor
Kenosha, WI

About Muscle Activation Technique (MAT)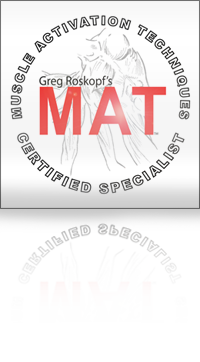 What is Muscle Activation Techniques®?
MAT is a method of assessing and correcting muscle imbalances. Greg Roskopf developed MAT and has worked as a consultant with the Denver Broncos, Denver Nuggets, Utah Jazz and various individual professional athletes.
What is a muscle imbalance?
Muscle imbalances occur when a muscle becomes weak or inhibited due to a lack of proper communication with the nervous system. Because this is an issue with the nervous system, traditional strength training will not correct the imbalance and will often make it worse. Muscle tightness, limited range of movement, and pain may result.
Can MAT treat my injuries?
MAT does not treat injuries directly, but it does treat muscle function. When muscle function is improved the body may speed its own healing process. Many people experience a significant decrease in pain after starting MAT.
Can MAT improve my health?
Yes! All of us have some muscle imbalance due to stress, old injuries, improper workouts, or repetitive activities such as work or sports. MAT may be able to correct these imbalances. When you have more muscle functioning properly, you should feel better and more energetic.
Can MAT improve sports performance?
Yes! With more muscle functioning properly, you should see an increase in range of motion, strength, and coordination.
I am already seeing a chiropractor/physical therapist/personal trainer/yoga instructor. Will MAT interfere with something I'm already doing?
Definitely not. MAT works very well with other forms of therapy and fitness.